Little Explorers - Autumn
Kew Gardens, Victoria Gate, Richmond.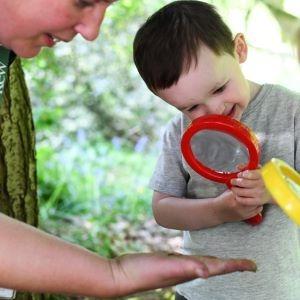 Little Explorers
Selected dates, Monday 22 May - 9 October 2023.
Join us for a fun-filled, adventure in our inspirational Gardens, as we investigate nature through interactive storytelling, outdoor exploration and hands-on activities. Children aged 2-5 years and their parent or carer will learn from nature together, helping to build confidence and a sense of adventure.
Upcoming themes:
• 22 May 2023 - Trees
• 12 June 2023 - Flowers
• 10 July 2023 - Butterflies
• 11 September 2023 - Food
• 9 October 2023 - Autumn
Tickets cost £14 per child (accompanied by one parent or carer).
Booking is essential as places are limited. Booking is essential as places are limited.
Entry to the Gardens will need to be purchased separately (free for under 4s).
This activity is 90 minutes long. All sessions will start at the Information Point opposite the Victoria Gate entrance, where you will be met by your session leader (grid reference J8 on our RBG Kew map).
Please allow enough time to walk to Victoria Gate (roughly 15 minutes from Lion and Elizabeth Gate and 20 minutes from Brentford Gate). Please see our website for more information on getting to Kew.
Please take the time to read our privacy policy.
If you have any queries, please email us at familylearning@kew.org.