Make Your Own Beaded Pearl Necklace Workshop
RBG Kew, Richmond.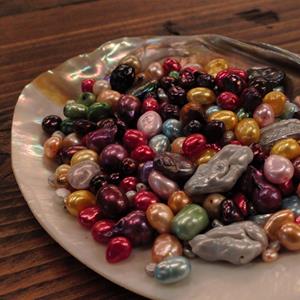 Make Your Own Beaded Pearl Necklace Workshop
Tutor
Rayane Chami
Location
Cambridge Cottage
About this event
My jewellery-making classes have primarily been aimed at teaching others how to make their own beaded jewellery using freshwater pearls. I like to start my workshops with a short lesson on pearls, including how they are formed and farmed, how to assess pearl quality, and how to tell real from fake pearls. I will then introduce you to the tools and components you'll need, and you'll be able to choose between 14ct gold-filled and 925 sterling silver findings.

Next, I will demonstrate how to begin the beading process and guide you step-by-step, going around to each of you individually to make sure everything is done correctly. Once the first step is complete, you'll be able to rummage through a large selection of pearls that I'll bring with me and choose the ones you like best. You'll even be able to prepare a mock-up so that you can picture what the final piece will look like. Once you're done beading (and socialising), I'll teach you how to fasten your piece.

These workshops offer an unintimidating space to unwind, learn a new skill, and make some friends. It will be intimate workshop with only up to 15 attendees.

Please note: While there is no limit to the length of a single-strand pearl bracelet, the necklace created can be up to 20" in length.

Please note Garden entry is included in the ticket price.