Moss Art Workshop
RBG Kew, Richmond.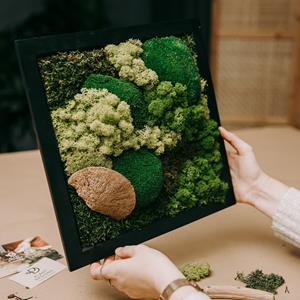 Moss Art Workshop
Tutor
Nina Khaira
Location
Cambridge Cottage
About this event
Using preserved moss species, Plant Designs will help you to create a unique piece of art, perfect for adding some greenery to your home décor.
Moss comes in a variety of beautiful colours and textures so you can be sure to make something that reflects your style, and thanks to the low maintenance required, your art will be enjoyed for years to come. These pieces make the perfect addition to your home and are even well-suited in spaces with no natural light, making them a great green alternative to potted plants.
We will guide you through the process and then you are free to let your creativity flow using the choice of materials available to create your framed moss art to take home with you at the end of the session.
Please note Garden entry is included in the ticket price.