Soundbaths in Nature: Special Edition
RBG Kew, Richmond.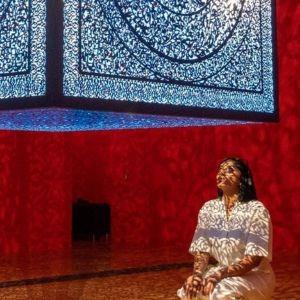 Soundbaths in Nature: Special Edition
Location
Shirley Sherwood Gallery of Botanical Art, Kew Gardens
About this event
Come, relax, and unwind with a restorative sound bath in the unique and beautiful setting of the Shirley Sherwood Gallery of Botanical Art's exhibition All the Flowers are for Me.
All the flowers are for Me explores cultural connectedness and peaceful co-existence in our increasingly fractious world. Participants are invited to become a living, breathing part of this immersive piece within an inclusive and sacred space. Enjoy the experience as a private viewing and then switch off and melt away the day's stresses with a soothing sound bath.
Listen to the calming sounds of a variety of gongs, singing bowls and gentle percussion in a therapeutic sonic experience for relaxation and wellbeing.
No previous experience is needed, all will be explained beforehand. Why not try a new way to look after your wellbeing in one of Kew's most exclusive of spaces.
Please enjoy your entry into the Gardens during the day (included in the ticket). To round off your visit, come and relax in your Soundbath in Nature session.