Summer Cycle
Elizabeth Gate, Kew Gardens.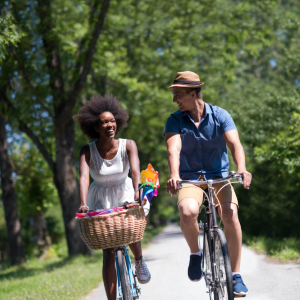 Join us to celebrate midsummer with a magical evening bike ride. Bicycles aren't usually allowed in the Gardens so this is a unique opportunity for you to bring your bike and explore Kew's most beautiful spots from a new perspective.


Enjoy your evening at Kew as you and your friends and family leisurely explore the Gardens by bike. Take in the enchanted woodlands and beautiful blooms; stop for a picnic or summer drink and listen to live music; smell the aroma of the rose garden as the sun begins to set - our Botanic Gardens come alive on two wheels for one night only
Some or all of the items for this event require you to enter a promotional code.
Please enter your details below to buy tickets.
More information about Summer Cycle tickets
• You must bring your own bicycle - entry will not be allowed for anyone without a bike (including children)

• This is not a race in any format, it is an event for leisure and strict speed limit (no faster than a jogging pace) must be adhered to for the comfort and enjoyment of everyone

• Standard bikes and accessibility bikes only - no balance bikes, scooters or power assisted bikes

• All children over 4 on bikes must be able to able to ride independently without aid from an adult.

• No adult may accompany more than four children. This adult is fully responsible for these children for the duration of the event.

• Adults wishing to bring along children under 4 years may do so providing they are secured in a BS standard child seat or trailer.

• Please stick to the designated paths and do not cycle on the grass

• All riders must ensure that their cycles are in a roadworthy condition, the organiser's decision shall be final as to whether a cycle is of an appropriate type or condition to be used

• Cycling is a physical activity and can be strenuous. Riders should be in good health and any rider who has a doubt about their health or fitness, or who has a medical condition or injury that could be affected by exercise (particularly a heart condition or pregnancy), should consult their doctor before participating. No-one should participate in a ride under the influence of alcohol or drugs (complying with the Road Traffic Act 1988).

• Please note that no glasshouses will be open during the event